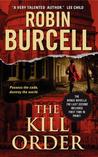 The Kill Order
My rating: 4 of 5 stars
Received for review from Amazon Vine
Robin Burcell's The Kill Order (Sidney Fitzpatrick–Harper 2015) is the fifth in the FBI Special Agent Sydney and forensic artist Fitzpatrick series (the second series created by Burcell). Sydney becomes embroiled with a powerful computer code called the Devil's Key. It's repercussions are so extensive, it is considered a danger to national security and anyone in its possession is ordered to be killed–the Kill Order.
The problem starts when a deep-cover American agency asks Sydney to draw a profile picture of a man who twenty-year-old pickpocket (Piper) saw kill her boyfriend. Because Piper has an eidetic memory, she remembers minute details and quickly identifies the man as a powerful government official. To make things worse, Piper saw the Devil's Key and now has it stuck in her brain, which means she must be killed. Sydney, with the help of the specialized government agency, decide to unravel why the code is so lethal and hopefully in that way, save the girl's life. What they don't expect is that doing this puts all of them in mortal danger.
The characters are interesting and clever and the plot fast-moving–in fact, it never slows down. The importance of the Devil's Key is explained, but to me, not believably enough. I get that it's a backdoor into sensitive computers. What I don't get is why that isn't solvable since it is a known problem. I found myself bogged down by the plot. At times, it seemed to be going in circles albeit at full speed, as the author tried to figure out where it was really headed.
I was disappoint that Sydney's skills as a forensic artist didn't show up more in the book. I know they're spotlighted more in other volumes in the series (i.e., "Black List"), so Burcell might have wanted to broaden the foundation for the plot by delving into other areas. One other point that didn't detract from the book's score: I think this book would have been easier to understand if I'd read the previous books in the series. Characterizations were a bit sketchy and there were references to earlier cases that I assume were from prior books. I think if I'd read the books in order, I would have felt much closer to the characters.
Overall, a great read from a talented author. I will be reading the rest of the series–starting with Book 1.
If you'd like to purchase this book from Amazon, it's available here:
The Kill Order (Sidney Fitzpatrick)
More books about FBI agents:
Book Review: Before Cain Strikes
---
Jacqui Murray is the author of the popular Building a Midshipman
, the story of her daughter's journey from high school to United States Naval Academy. She is the author/editor of dozens of books on integrating tech into education, webmaster for six blogs, an Amazon Vine Voice book reviewer, a columnist for Examiner.com and TeachHUB, Editorial Review Board member for Journal for Computing Teachers, monthly contributor to Today's Author and a freelance journalist on tech ed topics. You can find her book at her publisher's website, Structured Learning.